Planning the Streets of the Future
This five week course invites you to reimagine three street typologies that can be seen in your city: the local street, the shopping street, and the thoroughfare. We take you on a virtual tour through the Hague, Tel Aviv, and Barcelona to help you deconstruct the street and reimagine it with more people-friendly infrastructure, one element at a time. The final project invites you to make a visual impact by creating your very own "flying cars" animation!
You are free to access and participate in the course for free. If you want to earn a certificate upon completion, you can purchase a certificate. The certificate will be accessible only once the course is successfully completed. Read more here.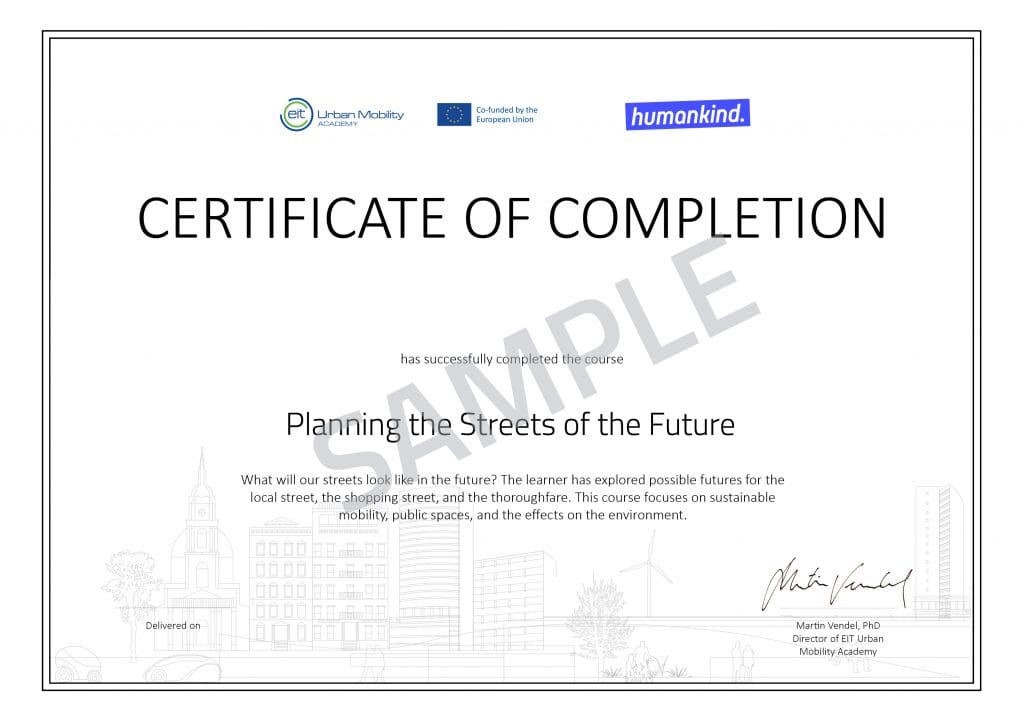 What Urban Professionals Have to Say
My first impression of this course was how you could design future streets. This course not only achieves that expectation from my side but also represents a methodology for analysis, considering goals, and mapping our ideas to real life. It makes me more passionate about experiencing other courses o EIT.
I would definitely recommend this to anyone who wishes to show change can be made to their streets. The course tackles a good variety of streets plus having real life examples and feedback helped a lot.
This course was a great introduction to designing streets for all people, making them safer and more appealing for all modes of travel. I especially liked the very small bite-sized modules, which meant I could 'attend' class in small bits of free time. I am not an urban planner or design professional. I'm an active advocate for walking, biking, and rolling in my city, and this has given me more confidence to speak up for what we need here.