With the global move away from fossil fuels and towards sustainability, ensuring city residents have reliable access to the goods and services they need, known as urban logistics, must be reconsidered across Europe.
This course aims to explore supply chain management challenges and possible solutions.
By the end of the course, you'll be able to…
Describe the approaches adopted by cities leading on innovative logistics solutions

Create stakeholder maps to explore parameters for your city context

Develop a visual map of different solutions, their operating parameters and technology selections

Assess creative urban logistics solutions and their relevance to your cit
This course was co-created with Breda University.
Breda University of Applied Sciences (BUAS) is a specialized university of applied sciences, providing higher education and performing applied research in the domains of tourism, hotel and facility management, leisure and events, media, games, logistics and built environment. With approximately 7700 students and 770 staff members, BUAS is a medium-sized university of applied sciences. Last year BUAS was ranked as best specialized university of applied sciences in the Netherlands. Breda University of Applied Sciences participates in over 20 highly competitive projects with EU funding (Horizon-2020, Erasmus+, COSME, Creative Europe and several Interreg programmes).
You can access and participate in the course for free. If you want to earn a  certificate upon completion, you can purchase it. The certificate will be accessible only once the course is successfully completed. Read more here.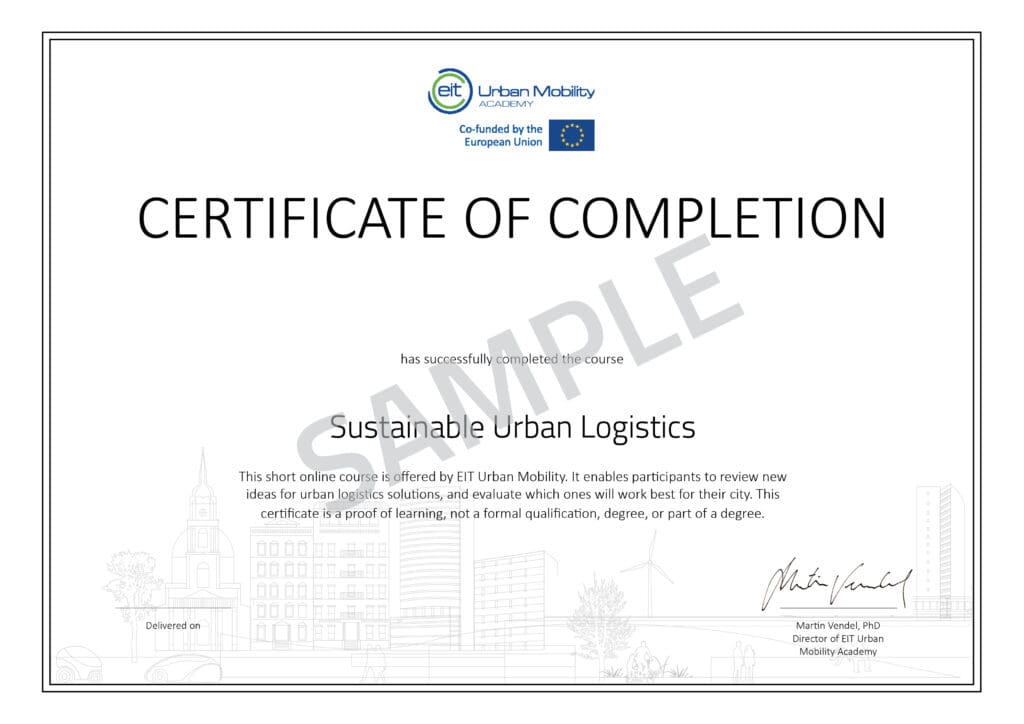 What Urban Professionals Have to Say
I recommend the course to anyone that needs and wants to be more aware of the difficulties in our cities and urban areas. Now I have some more knowledge and I have it very well organized to reformulate an opinion.
Highly recommended to the people who love to bring upon the change to the current ever-increasing pollution. It is a very good and effective course which set a stage to the address the challenges of unstoppable increasing demand of logistics. One can advance the research keeping this course as a base.
Excellent course on urban logistics where you can extract several examples of solutions applied to cities of different sizes, as they say, it is a matter of collaborating among all (local and regional governments, non-governmental entities, public and private companies), to improve our cities, establish collaborative systems based on shared values ​​and collective goals to stimulate the flow of ideas.