User Experience for Mobility and Public Space
This course equips urban mobility professionals with foundational knowledge to apply user experience (UX) in practice. You will learn about the relevance of a people-centered perspective in urban mobility, develop a mindset to better understand your end users– thinking across different mobility modes- and reflect on the impact of your own work on these users.

Urban mobility professionals

from a

variety of roles

(e.g. engineers, planners, designers, project managers, and decision makers)

ready to relate their work to the end user's experience

.

Private, public, and nonprofit professionals alike (not limited to one sector).
Students interested in learning about the application of user experience in mobility planning.
At the end of this short course, you will have foundational knowledge of user experience (UX) to apply in your work. You will:
Understand the historical context of traffic engineering in the street and deduce why the user experience approach is relevant for mobility planning.
Develop a basic understanding of UX/usability principles and a common user-centered method.
Apply the principles in the context of the street and public space across different mobility modes.
Compare the application of principles in a people-oriented and car-oriented street environment.
Reflect on the principles in your own context.
Recommended prerequisites
An interest in user experience and people-centered thinking in mobility. Helpful to have: a case in mind or your own work context to apply user experience principles.
You are free to access and participate in the course for free. If you want to earn a certificate upon completion, you can purchase a certificate. The certificate will be accessible only once the course is successfully completed. Read more here.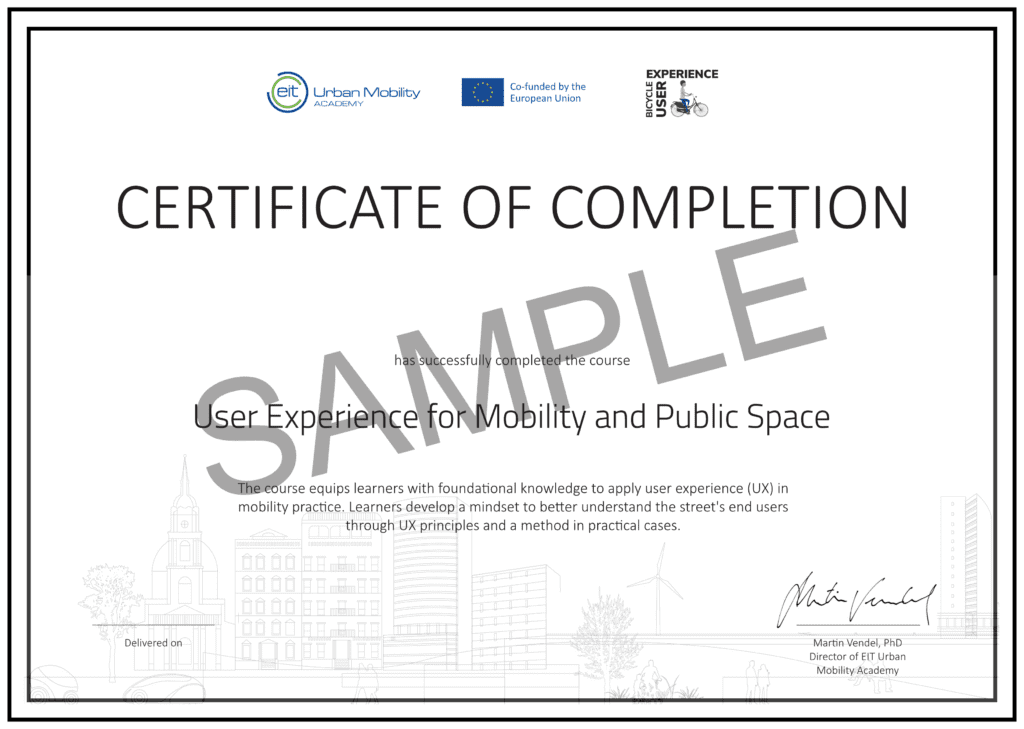 What Urban Professionals Have to Say
An extremely relevant course which provides the right vocabulary and perspective for critically assessing and understanding the design of our mobility infrastructure & public space anywhere in the world. It is only after appreciating this perspective that we can begin to transform or disrupt these spaces for the better of all.
This course is a great introduction/refresher in thinking through how we design human-centered spaces. Well done!
Well-structure with enough information to be digested.