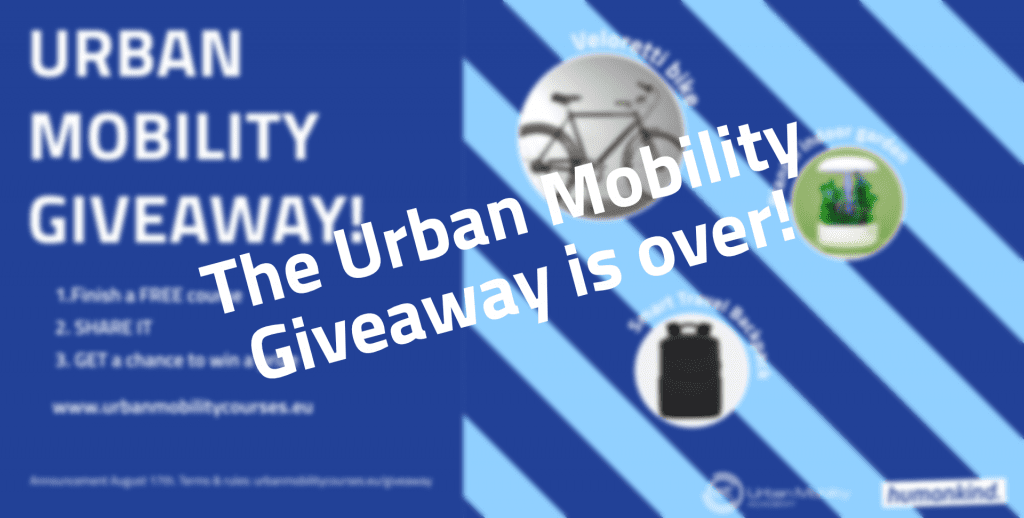 Update August 18th!
Thanks to everyone that participated in our #urbanmobilitygiveaway ! We finally have our three winners:
1. The Veloretti bike goes to João Gonçalves
2. The Plantui indoor garden goes to Thomas Bafoil
3. The Nordace smart backpack goes to Eleni Silvestrou
—-
Passing the equator of 2022, many are taking time to reflect. The past months have been challenging, and we are now hopefully leaving behind the hardest times of the Covid-19 pandemic. As we enter what, for long, was being called "the new normal", many of us are realising how old problems are still very much alive.
Take urban mobility as an example. It's summer, everyone is moving, thirsty for holidays, for efficiency, for stimuli, finally able to travel for work, family or pleasure. But as travelling makes a come-back, so do congestion, pollution, inefficiency. Inevitably, we ask ourselves: are we doing things right? Can we learn ways to do better?
The answer is yes.
From designing cycling cities, to sustainable parking, to superblocks' magic recipe to tackle mobility issues – EIT Urban Mobility Courses put learning at the centre of the (new) picture. To spread the news and reach more people like you, who want to make a positive impact in urban mobility, we've teamed up with a couple of sharp companies to organise a Summer Giveaway. Interested? Keep reading!
EIT Urban Mobility Courses launched under EIT Urban Mobility's Academy division, and it is a European initiative aimed at 'closing the knowledge gap', making relevant, up-to-date, specialised e-courses on all aspects of urban mobility publicly available.
The e-courses' registration is free and they vary in length—offering quick and efficient 1-hour lectures or spanning the learning phases over five weeks—and in topic, touching on cycling and active mobility, transport planning and logistics or gender influences in urban transport, among others. All of EIT Urban Mobility's academic offer follows two focuses: innovation and digitalisation, with an emphasis on the use of big data for the optimisation of processes without forgetting the theory behind.
1st Prize
A Veloretti bike
Born in The Netherlands in 2013, Veloretti sells both electrical and regular bikes, all configurable and in a variety of shapes and colours. The bike that we will give away is a city, regular, non electric, non-configured bike. See total cost below.
2nd Prize
A Plantui indoor garden
If you've always wanted to grow your own superfood, this is your chance. Made ethically in Finland, Plantui's indoor gardens come with everything you need to start growing your plants indoors, with little space and the highest tech. The prize includes Plantui's Smart Garden 6 along with nutrients and herbs to start cultivating. See total cost below. 
3rd Prize
Nordace's Nelson smart travel backpack
Travel and in-town mobility might have slowed down during the past two years, but no way it is over for good. With room for up to a 15.6'' computer, featuring hidden pockets and a USB charging port, it won't matter whether you're hopping on a train or jumping on your electric scooter to hit the office – this backpack will have you covered! See total cost below. 
1. Go to urbanmobilitycourses.eu and pick the e-course that's calling you the loudest.
2. Register to the e-course (it's free!) and finish it before August 14th. For each finished e-course you will receive two points.*
3. Repost any of our giveaway announcement posts on LinkedIn. For each repost you share, you will receive one point. You can post from your personal or your company's LinkedIn account, as long as the name of your company was stated in the e-course registration. The more finished e-courses, the more points.
4. Remember to make the post public – otherwise we won't see it!
5. Wait for the winner announcement on August 17th. The winners of the bike (1st prize), the indoor garden (2nd prize) and the Nordace smart backpack (3rd prize) will be the 3 participants with the maximum number of points.
6. Do you have any comments about the e-courses? Remember to use our hashtag: #urbanmobilitygiveaway.
Disclaimer:Humankind will strive to deliver the announced prices to the winner's provided address. If, for any reason beyond Humankind's control, the prizes cannot be delivered, Humankind will provide a voucher equal to the prize price to spend on Plastic Freedom.

*Make sure you genuinely read the content and complete all the lessons instead of just clicking 'next' to be done faster – that doesn't count. And if you like the e-course please make sure you fill out the Feedback form.
July Week 3 – Competition Launch – July 18

August Week 2 – End of competition – August 14

August Week 3: selection and announcement of winners: participants with the maximum number of points that completed an e-course (i) and shared a competition announcement on LinkedIn (ii). If there is a tie, the participant who finished the e-courses earlier in time will have priority. The winners will be announced on this website and Humankind's LinkedIn and Twitter accounts.

August Week 4: Prize distribution 
Do you have a question? Do you have a complaint? Drop us a line at competition@humankind.city
The total cost of the Veloretti bike is 399 EUR (same for all types of regular, non-configured bikes), plus delivery costs of 19,95 EUR.

The total cost of the Plantui indoor garden is 289 EUR, plus delivery costs depending on where you live.

The total cost of the Nordace Nelson smart travel pack is 79 EUR plus delivery costs depending on your location.
The provider of this competition is:
VOF Humankind
Hofplein 19
3032 AC Rotterdam
The Netherlands
+31(0)10 89 06 608