Tools to Move Europe Forward
Explore the webinars

All our webinars have been developed by professionals from around Europe and can be accessed for free.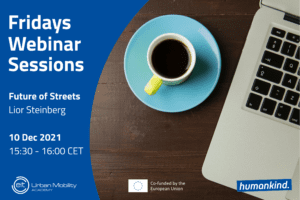 Watch Recording
📆 Date: 10 December 2021, 15:30 – 16.00 Amsterdam | 🎤 Host: Angelica Francisco | 🎤 Expert Guest: Lior Steinberg | Description What could be the future of our streets? To imagine the possibilities, we take you to three street typologies that can be seen in your city: the local
Read More »
This project is funded by EIT Urban Mobility, an initiative of the European Institute of Innovation and Technology (EIT), a body of the European Union.

Urban Mobility Courses is a collaboration between several European and international companies and organisations: Humankind, Bicycle User Experience (BUX), Cycling Research Review, and more. 
This online course is supported by the EIT Urban Mobility's Competence Hub. EIT Urban Mobility is an initiative of the European Institute of Innovation and Technology (EIT) that has been working since January 2019 to encourage positive changes in the way people move around cities in order to make them more sustainable and liveable places.
Within EIT Urban Mobility's Academy, the Competence Hub provides training programmes and content for professionals working in the field of urban mobility. We leverage the expertise of EIT Urban Mobility's unique network of 85+ European companies, research institutions, universities and cities, to identify trends and new technologies, highlight key issues and controversies, as well as to create innovative and useful training programmes. By helping urban mobility professionals around Europe acquiring the right knowledge and developing the relevant skills, we will close the urban mobility knowledge gap and make our cities more resilient and viable.
From December 2020 onwards, we will be continuously developing and releasing free online content, e-learning courses as well as MOOCs on different key aspects of urban mobility. For more information, please check out the Competence Hub webpage. We also offer custom-made courses for companies and organisations using the latest content in collaboration with renowned practitioners and academics partners from leading European Universities. If you want to know more about us and/or our different training programmes/solutions, please send an email to competencehub@eiturbanmobility.eu.
You can also follow EIT Urban Mobility on social media: LinkedIn | Twitter | Facebook | YouTube | Instagram
What Urban Professionals Have to Say
Thrilled to have completed the Designing the Cycling City course created by humankind. It was really interesting to learn about the Dutch approach to cycle lane design and re-imagining our street in the final assignment. Thank you Lior Steinberg and George Liu, looking forward to your next course!
I took the course Methods for a People-Centered Design Process to learn more about the different UX-design tools for cycling infrastructure design and include cyclists throughout the process as end users within their own local context. I fully recommend this course if you are interested in more human-oriented design processes!
Designing bicycle lane at the right place and with the right design is crucial. Otherwise, you may create more damage than good. If you are interested in learning how to design cycling infrastructure, then "Designing the cycling city" online course by George Liu and Lior Steinberg is the way to start. It's a brilliant course. Check it out!
I took the Designing the Cycling City course at the start of the year in hopes of learning something. Little did I know that I would be able to create a presentation like this, while also strengthening my skills in SketchUp and VISSIM! Thanks to George Liu and Lior Steinberg for providing an incredible learning opportunity for so many people around the world!