In this course, we explore how micromobility fits into the overall urban mobility landscape, what the opportunities and challenges are and how policies and operations could work together. The final module will look at the emerging trends that will influence the future of micromobility. Outcomes: you'll… – understand what micromobility is and its impacts (positive and negative) on our communities. – learn which user segments are neglected and how that could be addressed through some case studies. – review all areas where policy plays a role and look at best practices – gain an overview over the trends that will impact micromobility in the near future. Bonus: You'll walk away with a handful of downloadable guides (i.e policy best practices, impact of integrated transportation).

This course was co-created with movmi.
movmi is an agency focused on Shared Mobility, from micromobility, carsharing to Mobility-as-a-Service. movmi builds healthier communities by co-creating innovative mobility solutions that increase transportation options, while reducing dependency on private car ownership. Their services include research, education and the co-creation of new shared mobility services. A pioneer in innovative transportation solutions, movmi has helped launch and grow over 70 shared mobility services world-wide, always in tandem with the local community.


Free & Paid Options
You can access and participate in the course for free. If you want to earn a certificate upon completion, you can purchase it. The certificate will be accessible only once the course is successfully completed. Read more here.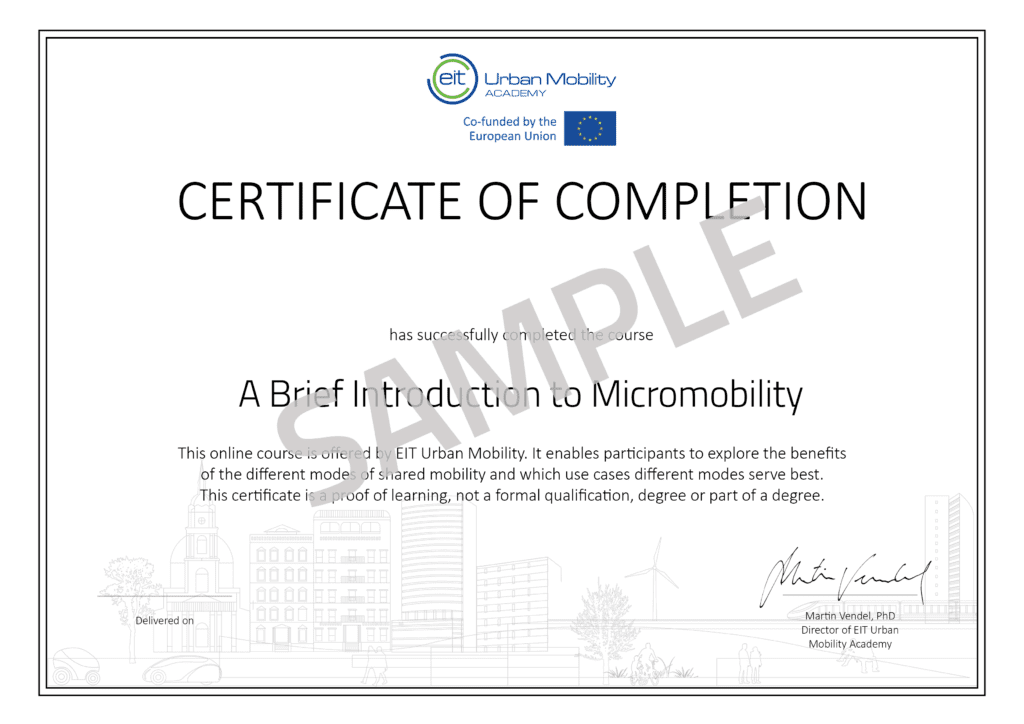 Multi-language videos:
To make this course accessible for a greater audience, the videos' subtitles are available in English, French, Italian, Polish, Portuguese, Spanish and Turkish.
What Urban Professionals Have to Say
The course covers most of the positives and the challenges of micromobility to be part of the transformation, so that cities can achieve NetZero. Recommended for industry professionals who need new input, city planners, regulators and citizens who want to understand more about MaaS and the impact this can have on improving their overal life qualities.